All-new and 100% complete, this is the ultimate collector's companion for Animal Crossing™: New Horizons!
Whether you've just signed up for your first island getaway package or are already an experienced island designer, nothing will help you get organized and keep track of island life quite like this. Future Press presents a complete encyclopedia of everything there is to do, see, craft, and collect on (and off) your island. This huge, ultra-premium hardcover book is absolutely bursting with information spread across 688 lavishly designed pages—it really is the ultimate reference for anyone who insists on having it all.
Live Your Best Island Life
No matter what you want to accomplish on your island getaway, this book will make matters simple. Packed with tips, explainers and fun diagrams, every single aspect of the game is beautifully presented. Whether you want to get to know everything about the islanders, facilities, visitors, and events, learn how to get rich quick, or simply take in the finer details of island life, you can sit back and read all about it.
Happy Home Paradise
If you want to delight your clients and be the best vacation home designer Paradise Planning has ever seen, look no further: we'll provide all the on-the-job training you'll need. You'll meet the team, learn to find clients, scout for ideal locations, and perfect your skills as a home designer.
For the True Collector
For the first time, every single item available in the game is catalogued—it's all here in one final and complete, fully-checkable list. The book includes everything you can purchase, discover, or collect from update 2.0, the Happy Home Paradise DLC, and all seasonal events, with full details on variants and customization options!
Island Makeovers
For those who really want to push the limits of island designing, we've dedicated an entire chapter to the subject! Within you'll find an absolute treasure trove of tips, tricks, and tutorials to up your design game. Follow along with our example builds, or simply soak in all the inspiring ideas to help build the island of your dreams.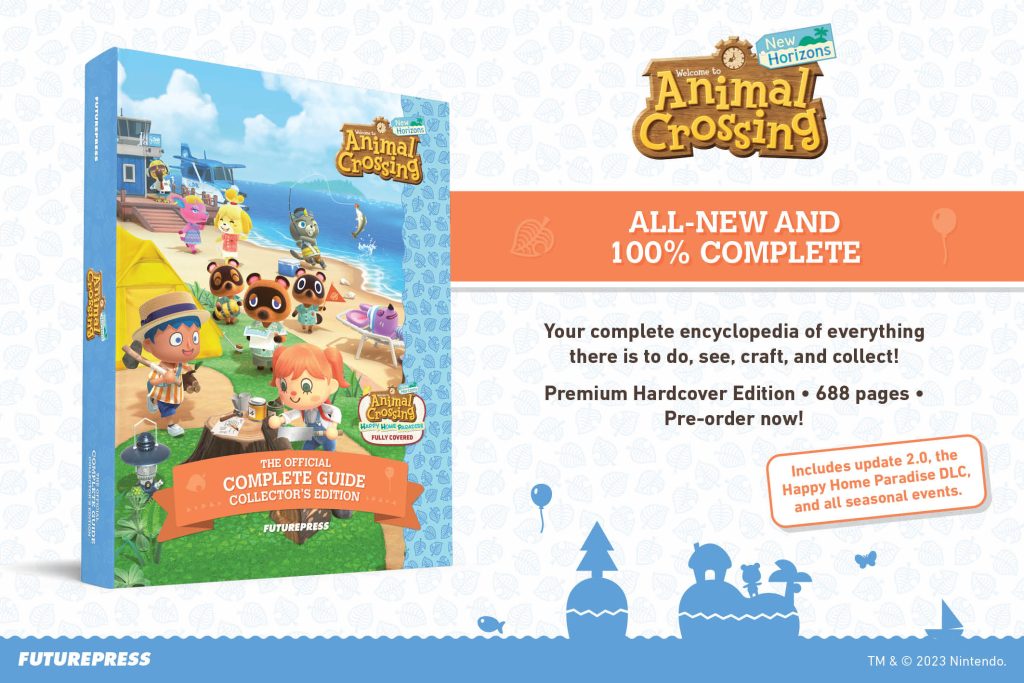 Pages 688
Format 8 1/2 x 11 inches; 220 x 280 mm
Platforms NINTENDO SWITCH™
Release Date May/June 2023
Price $54.99, £44.99, €49.99
ISBN 978-3-86-993124-1 (English edition)
ISBN 978-3-86-993126-5 (French edition)
ISBN 978-3-86-993125-8 (German edition)