March 04, 2023
We have a small reveal to make: the Complete Guide for Animal Crossing: New Horizons comes with a protective dust jacket, and underneath is a hardcover design that we feel befits a true Future Press Collector's Edition. The book also comes with two unique paper bookmarks, chosen randomly from a collection of six. We hope you like them!

In case you haven't already, you can secure a copy by pre-ordering here: geni.us/acnh-complete

February 23, 2023
In case you're wondering what the differences are between our original Animal Crossing: New Horizons Companion Guide and this newly-announced Complete Guide, check out the books' key features and differences in our comparison chart below. Every single page of the encyclopedic Complete Guide is 100% rewritten, redesigned, and packed with extra detail! We've spent a long time working on it, and it's almost ready to go to print—we'll be showing off some final pages very soon and can't wait to see what you think of it! If you want to reserve a copy, you can pre-order it here: geni.us/acnh-complete.

We also haven't forgotten owners of the original guide, but with the Complete Guide being an entirely new and different book it's impossible to separate all of the new content into a 2.0 update PDF—loads of brand new info about characters and activities that have been in the game from day 1 is mixed seamlessly into the new guide's pages. But we do have something cooking for original Companion Guide owners, so stay tuned for a PDF update coming your way soon!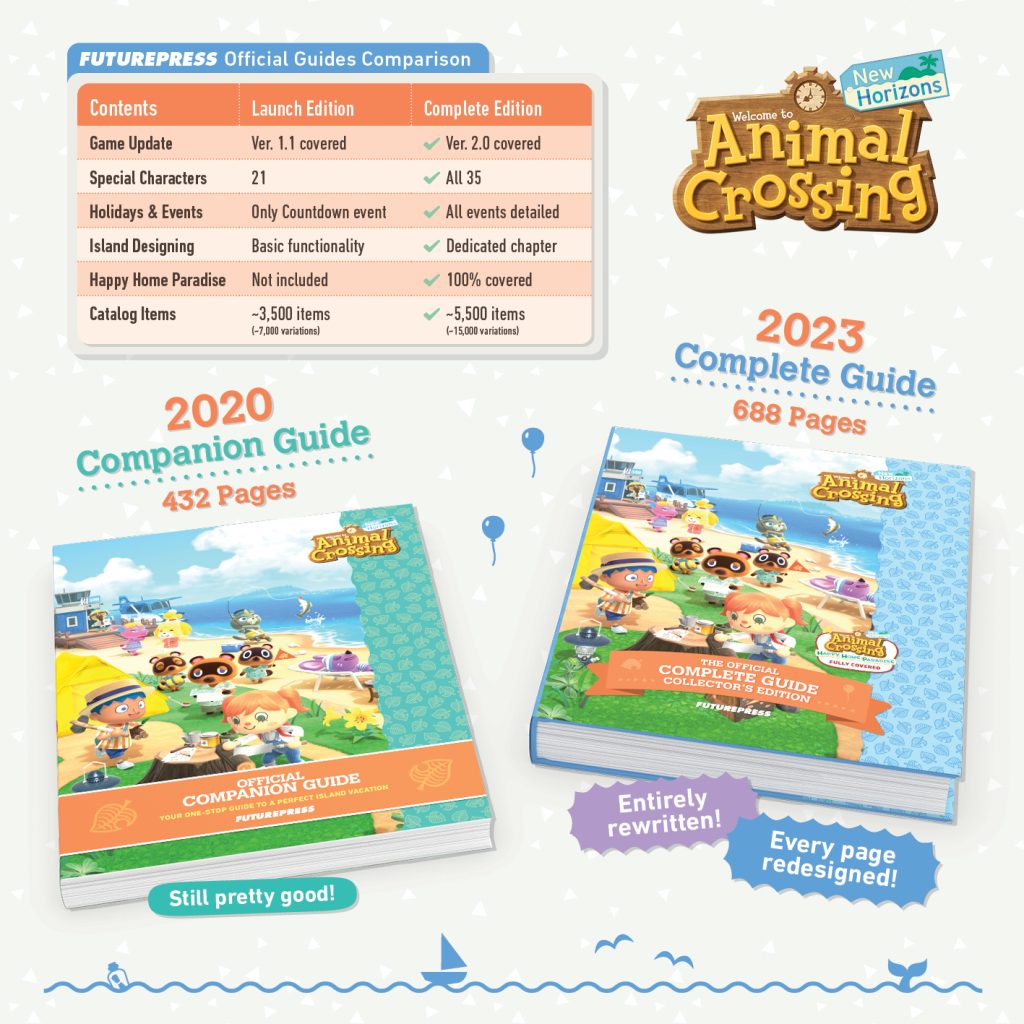 February 06, 2023
The official handbook to everyone's favorite island getaway is getting a complete makeover! We're so happy to announce the all-new, 100% Complete Guide to Animal Crossing: New Horizons! This 688-page premium hardcover encyclopedia is packed with tips, explainers, and fun diagrams, making it the definitive guide to your island paradise. Everything you can do, see, craft, or collect is covered in exhaustive detail—every single item in the game is catalogued and waiting to be checked off. Island designers will find a treasure trove of tips, tricks, and inspiring tutorials, and there's an entire chapter dedicated to the Happy Home Paradise DLC. This Collector's Edition will be released at the end of April 2023 in English, French and German languages.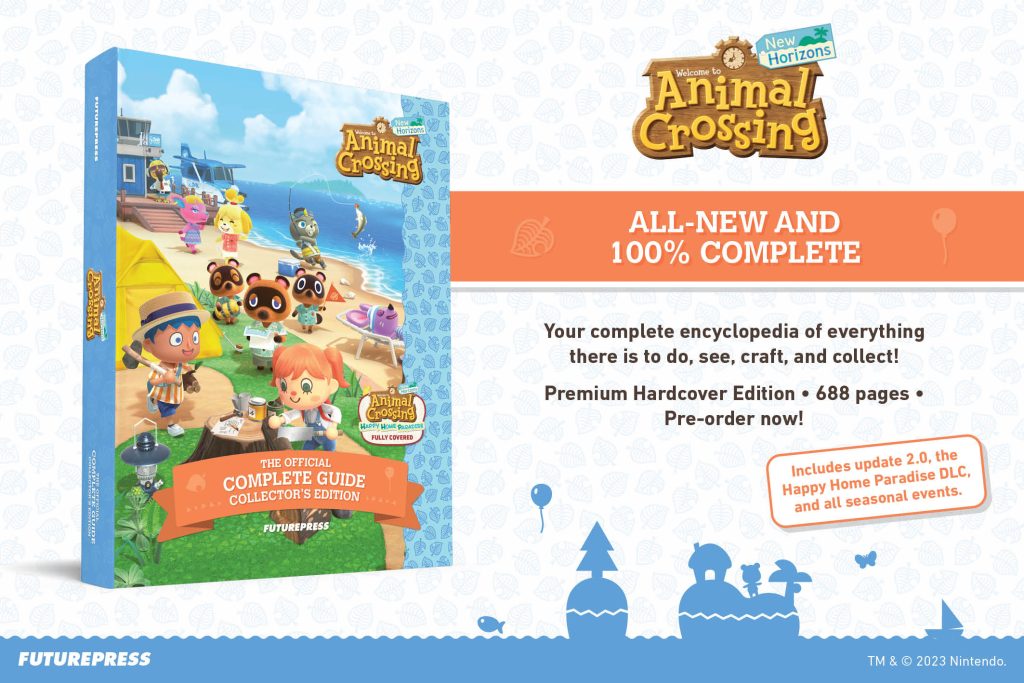 October 13, 2022
Here's another update on the Elden Ring Books of Knowledge:

Volume I is almost here! English language copies will hit retailers in Europe next week, and US retailers will receive it in early November. German, French and Spanish editions will also be available at European retailers from the end of October.

We're still hard at work on Volume II and have made the tough decision to delay its release until early 2023. This is partly due to printing and shipping backlogs over the holiday period making it impossible to get the book to retailers in time for Christmas deliveries. But it's equally due to us wanting to ensure the highest quality product — we need a little more time for testing to include all there is to know at the point of publication, and to make the book accurate and useful long after its release. We'll update again as soon as we know Volume II's firm release date. We really do appreciate your continued patience and apologize for the long wait.
July 25, 2022
We've tried hard to keep the planned end of Summer release window, but we're sorry to say we need more time due to a combination of the current production and shipping circumstances and our own insistence on including every last detail we can into the books.

So we're sorry to announce that Volume I's release will be pushed back to late September in the UK and late October for the US and European language editions. We're hoping that Volume II will follow just a month later in all territories so that both books are available this year.

We're working tirelessly to make these the definitive books for this astounding game, and will provide another update if circumstances change. We'll be back in August, when we'll share some pages from Volume I with you. Thanks for all your patience!